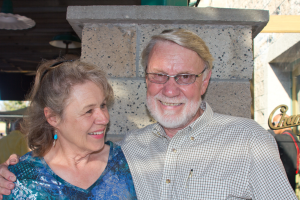 In 1981, Carol and Phil Baily along with their two sons, aged 9 and 11 , decided to uproot their lives in the Los Angeles area and "move to the country." The "country" turned out to be Temecula Valley; a former 100,000 acre cattle ranch which was being transformed into a residential/agricultural community, the centerpiece of which was a 3000 acre nascent wine region.
Avid wine enthusiasts and home wine makers, together they planted their first acre of grapes in 1982 on Mother's Day, expanding the vineyard to six acres in 1983, and began taking courses at the University of California at Davis in viticulture and enology.
In 1986, the first small winery was built and opened in November with one wine for sale; a Cabernet Sauvignon unconventionally made using the carbonic maceration process, typically used for Gamay in the Beaujolais area of France. The process was chosen because it is the fastest way to make a pleasing red wine, and it was time to reverse the cash flow.
Over the years, the Baily's expanded their holdings, and in 1994 purchased one of Temecula's original vineyards, a 20-acre parcel which was planted in 1968. In 1992, they opened Baily Wine Country Café (Now Baily's located in Old Town Temecula and owned by son Chris and daughter-in-law Kim). In 1998, they opened their tasting room and restaurant, Carol's, on Rancho California Road. And in 2001 built a new, larger production facility at the site of the original winery on Pauba Road. (Scroll down to view video of Phil Baily telling his story about his humble beginnings as a winemaker in Temecula).
Now, with 25 acres of grapes, a state of the art production facility, a comfortable visitor center with a tasting room and restaurant on the main road in wine country, and most recently an exclusive reservation-only tasting room at the production facility, the Baily's have created the place where wine and food enthusiasts can taste the best the Temecula Valley has to offer!