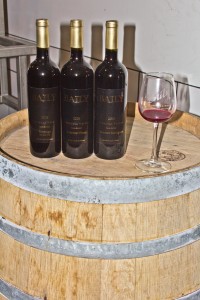 There are two unique tasting locations for you to experience, enjoy, and purchase Baily wines:
MAIN TASTING ROOM
---
At the Baily Visitor Center
33440 La Serena Way, located at the corner of La Serena Way & Rancho California Road
951-676-9463
Get Directions
Here you can taste our current releases; red and white, dry and sweet. Baily specializes in the Bordeaux varieties (Cabernet Sauvignon, Merlot, Cabernet Franc, Malbec, Sauvignon Blanc, and Semillon), but also makes some fine Chardonnay, Riesling, Sangiovese and Port.
The tasting fee is $20.00 (includes souvenir logo wine glass and $5.00 credit for wine purchase).
The Main Tasting Room is open daily from 11:00PM-5:00PM. No reservations are required. Last call for tasting and glasses is at 4:30PM.
ESTATE TASTING ROOM
---
Baily Estate Production Facility
36150 Pauba Road, off of the De Portola Wine Trail
951-972-9768
Get Directions
Here you can partake in our Reserve Vertical Tasting. You have the unique opportunity to taste and purchase our older aged library red wines (Meritage, Cabernet Sauvignon, and Cabernet Franc) in an intimate setting right inside our wine production facility.
***UPDATE as of May 15, 2021*** the Estate Tasting Room has re-opened for tastings, Friday through Sunday, 11:00AM to 4:00PM.  Reservations and deposit are required.  Call or text 951-972-9768 to book your Reserve Vertical Tasting!
Reserve Vertical Tasting Format – Six years of one variety of wine presented simultaneously in six Riedel wine glasses. The tasting fee is $40.00 per person and served with small bites of bread and cheese to palate cleanse as you taste. 
A short tour of the production facility is available upon request. Please call 951-972-9768 if you have any questions or for more information.
Read more about this unique and special tasting experience: Corkscrew Concierge
LIBRARY WINE OF THE MONTH
_______________________________________________________________________________
Join us for our new Library Wine of the Month program! Each month winemaker Phil Baily will pick one or more of Baily's Library Wines (wines that benefit from further aging in the bottle) to be featured.
The wine will be poured at both of our locations as an added bonus to the regular tasting, and will be available for purchase at a discounted price. There is no signup or membership fee required.
Wines will include our Meritage, Cabernet Sauvignon, and Cabernet Franc ranging from the years 2005 – 2016. All three wines are 100% Estate Bottled and made from grapes grown in our own Estate Vineyards here in Temecula Valley.
Be sure to ask about this month's selection when visiting either tasting room!
For more information call 951-676-WINE (9463) or 951-972-9768