Please welcome to the fold our newest Baily release, the 2014 Cabernet Sauvignon.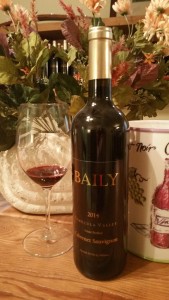 Bold, rich and velvety, with aromas of blackberry, mint, cloves and vanilla, with a long, smooth, clean finish. It is pleasing now with six months of bottle age and will continue to age gracefully, developing an increased complexity over the next several years.
The grapes for this wine came from our Berenda Road (76%) and La Serena (24%) vineyards. The Berenda Road vineyard is one of Temecula's original vineyards, having been planted in 1968. We acquired the vineyard in the early ninetieds. All of the cuttings came from Wente Brothers in Livermore, which was expanding into Monterey County at the time and had the only large grapevine nursery in the state. The flavor,  texture and color of the wine, and the source of the cuttings tell us that the grape is Wente (or Concannon) Clone 7, which was widely planted in the Napa Valley in the great expansion of the 70's.
The La Serena vineyard is the one surrounding our tasting room, so if you are having lunch in the pation at Carol's you can look at the vines that helped us produce this wine.
The grapes were picked from the La Serena vineyard on September 3 at a brix level of 23.0 and from the Berenda vineyard on September 9 at a brix level of 22.3. They were crushed and fermented in stainless steel tanks, pressed, and then after a period of settling, placed into 60-gallon oaks barrels in December 2014. Half of the barrels were new American Oak and half were three-year old European Oak. After 30 months in barrels, the wine was taken out, filtered, and bottled in June 2017. Alcohol is 13.8%, pH is 3.55 and total acidity is 6.7 grams per liter. 450 cases were made.
The normal price for the Cabernet Sauvignon is $40.oo and the Cellar Rat (club membership) price is $32.00 and is now available for purchase at our tasting room and online store.
Be sure to visit us over the holidays. We have several exciting things planned including the release of our 2017 Riesling, which is a little sweeter than the 2016. Since we still have a good amount of the 2016 Montage, we decided to bottle a Sauvignon Blanc and a Semillon by themselves for 2017. These wines will also be released in December. The Estate Tasting Room will be featuring a Port vertical as well as Cabernet Sauvignon. Call Lisa at 951-972-9768 for details and reservations.
Yours in the enjoyment of wine & delicious food,
Phil & Carol