Ready for a new tasting experience at Baily Winery? The new 2017 white wine releases are here!
Come out and try: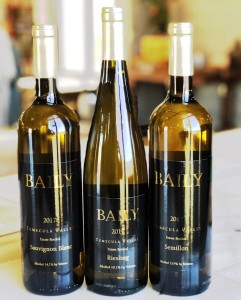 2017 Sauvignon Blanc – boasting crisp and light fruit with a touch of herbaceousness. Wonderful with slightly spicy meals, chicken, fish, or Caesar salad!
2017 Semillon – Lush ripe fruit with a lingering aroma of green apple and honey – typically blended with our Sauvignon Blanc as Montage, this year we've decided to let it stand alone. Pair with a creamy fettucini, or salmon alfredo! YUM!
2017 Riesling – This vintage of Riesling is slightly sweeter than last year's dry version. Perfect for warm Temecula summer days to share with friends poolside or at a picnic.